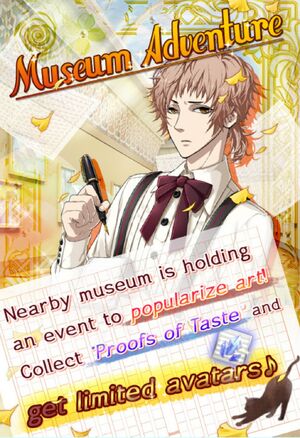 You will receive one " Proof of Taste " for clearing a stage
Energy required to perform a search increases after each stage clear
Clearing a stage increases maximum energy 30 > 300
Energy recovers 1 every 5 minutes
Amount of ep received increases after each stage clear
EP is doubled with each stamp prize from Stylish Monochrome with a maximum of 6x.
EST: 11/5 4:00 ~ 11/19 1:00
PST: 11/5 1:00 ~ 11/18 22:00
GMT: 11/5 9:00 ~ 11/19 6:00
AEST:11/5 19:00 ~ 11/19 16:00
Ranking Rewards
Edit

1~300

301~1000
1001~4000
40001~7000

Achievement Awards
Edit
!Clear this many stages!
Clear Stage 3
Clear Stage 5
Clear Stage 10
Clear Stage 20
Clear Stage 25
Clear Stage 30
Clear Stage 35
Clear Stage 45
Early Clear
Edit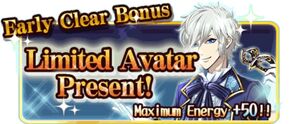 Clear 10 Stages within 48 hou

rs from starting the event to increase your maximum energy by 50 and get the limited Avatar, Scriptwriter.
Event Gacha
Edit

1 spin requires 3 Proofs of Taste (acquired during the event). You can save up your Proofs of Taste and do 10 spins at once but no more than that.

::Rare Items::

Edit

Master Workman type1
Master Workman type2
Master Workman type3

Sculpting Dog Brown
Sculpting Dog Black
Sculpting Dog White

Scroll Master Red
Scroll Master Black
Scroll Master Blue

Flower Design Pink
Flower Design Green
Flower Design Yellow
-Normal Items-

Edit

Museum Owner type1
Museum Owner type2
Museum Owner type3

Young Artist Blue
Young Artist Red
Young Artist Green

Cardigan Shirt Blue
Cardigan Shirt Brown
Cardigan Shirt Red

Overenthusiastic Painter type1
Overenthusiastic Painter type2
Overenthusiastic Painter type3

Art Dest type1
Art Dest type2
Art Dest type3

Proofs of Enthusiasm type1
Proofs of Enthusiasm type2
Proofs of Enthusiasm type3

Future Masterpiece? type1
Future Masterpiece? type2
Future Masterpiece? type3

Soft Hat type1
Soft Hat type2
Soft Hat type3
Event Dialogue, choices and items are hidden under collapsed tables to avoid potential spoilers.
[Stage 1]
Edit
- Entrance

-

(Consume 1 stamina energy, get ep1)
Could I have a few minutes of your time?

A journalist called you.

If you give me information... →

Proof of Taste × 1

Of course→

Refreshing Gum 5 x 1

How about I interview you? →

N/A
I hope you'll enjoy our event.

An event staff member has appeared.

I expect great things! →

N/A

Recommend me something! →

100K

This will be fun!→

100K, Proof of Taste × 1
※ Energy increase by 27
[Stage 2]
Edit
-Gallery-
(Consume 2 stamina energy, get ep2)
Sigh, so tired.
Not moving is hard.

You hear a voice, but you don't see anyone

The painting... Talked? →

100K

Was it my imagination? →

N/A

... (Stare at the picture)

→
Fu, fu. My paintings are finally on these walls...

A confident artist has appeared.

Are you famous?

→

Proof of Taste × 1 or Business Smile 5 x 1

They're... Good? →

Business Smile 5 x 1

Uhm... To be honest...

→

N/A
[Stage 3]
Edit
-Golden Gallery

-

(Stamina consumption 2 win ep2)
Are you having fun?

The owner has appeared.

...Are you dangerous?

100K

Say yes. →

N/A

Are you the owner? →

Proof of Taste x 1 or 100K
Uhm...

A tourist has appeared.

......Are you lost? →

N/A

What's wrong? →

Moody × 1

Are you okay? →
or Proof of Taste × 1
[Stage 4]
Edit
Literature Corner
(Stamina consumption 3 won ep3)
A surprise interview!

The journalist called you.

What's up with him? →

Proof of Taste × 1

Can you answer my questions? →

N/A

You're working hard →

Peppermint candy × 1
This one is good.

A great writer has appeared.

Who are you!? →

N/A

Ignore →

Love Nuts × 1

What are you doing? →

Love Nuts × 1 or Proof of Taste × 1
[Stage 5]
Edit
-Workshop-
(Stamina consumption 4 won ep4)
I could paint anything now!!

An artist in perfect form has appeared.

Doing well? →

N/A

Perfect form?→

100K

You okay? →
5JIN, Proof of Taste × 1
Hm? Who are you?

A sad artist has appeared!

What's wrong with your face? →

N/A

What are you doing? →

N/A

Must be tough →

100K, Proof of Taste × 1
[Stage 6]
Edit
-Rest station-
(Stamina consumption 5 won ep5)
Would you like to order a dessert?

A veteran waiter called you.

Order→

Refreshing Chewing Gum 5 × 1, Proof of Taste × 1

Refuse→

N/A

Ask for the details →

N/A
Welcome!

The cafe owner has appeared!

Order the recommendation→

N/A

Order something random →

N/A

Order tea →

100K, vouchers × 1
[Stage 7]
Edit
-Movie Corner-
(Stamina consumption 6 won ep6)
Whoa...!
I want to sneeze...

You heard a mysterious voice...

A propman?! →

N/A

Behind! →

100K, Proof of Taste × 1

It's a screen →

100K,Proof of Taste × 3
...!!

You have found a propman!

Pretend you didn't see →

Business Smile 5 × 1, Proof of Taste × 1

A ninja?! →

N/A

Stare at him →

N/A
[Stage 8]
Edit
-Maze-
(Stamina consumption 7 won ep7)
I hate darkness...

What is this voice...?

Up? →

100K, Proof of Taste x 1

Down? →

N/A

Behind!! →

5JIN, Proof of Taste × 1
There's not enough sense of space here...

You met a mysterious workman!

Sense of space? →

N/A

Just keep going →

Love Nuts × 1

How about a window on the ceiling? →

100K, Proof of Taste × 1
[Stage 9]
Edit
-Masked Dance Hall-
(Stamina consumption 8 won ep8)
What?

You met a famous musician

Get an autograph→

N/A

Praise the performance →

Moody × 1

Ask for some tips →

Proof of Taste × 1, Proof of Taste × 5
Having fun?

A veteran actor has appeared.

...who are you? →

N/A

Who might you be? →

Moody × 1

Did I see you on TV? →

100K, Proof of Taste × 1
[Stage 10]
Edit
Finale
(Stamina consumption 9 won ep9)
Did you have fun?

The event staff member called you.

Yes! →

N/A

Yes, it was amazing! →

N/A

Uhm, you could improve some parts. →

100K, Peppermint Candy × 1
Me? You can call me the Cat Mask!

A masked man has appeared!

Are you cosplaying? →

N/A

Stare →

5JIN, Proof of Taste × 1

Aren't you a bit late? →

Proof of Taste × 3
Event Conversations
Edit
[Default] [Mischievous] [Tsundere] [Mysterious] [Crybaby] [Composed] [Diligent] [Hot Blooded] [Cool] [Cheeky] [Fresh] [Cute] [Clumsy] [Girly]